A3 Wall Calendar Printing
Rated 5 out of 5 by 3 customers
Excellent quality paper and print
Excellent service and great product! I can highly recommend to anyone this company well made wall calendar ( in my case) Very responsive service by email. I would love to say big Thank You in this way! A+++
Norbert M, Sat 28th Dec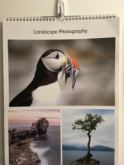 Very pleased
Producing a calendar each year for clients, I tried Need-a-print for the first time and am extremely pleased with the results. Recommended.
Doris B, Sun 3rd Nov
Great calendars, and easy to arrange
Once I had sorted the design on the website, it was very easy to get the calendars ordered and they were printed and delivered in 7 days. The boxes suffered at the hands of Parcelforce though, not sure how two of them managed to contain the calendars - but they did and all the calendars were fine.
Bill M, Tue 1st Nov
250gsm Silk Cover, 170gsm Silk Inners
250gsm silk cover with 170gsm silk inner pages, perfect combination for calendars and books
Each order has a flat delivery charge no matter how much you order, the delivery charge will remain at the flat rate.
Ireland
| | |
| --- | --- |
| Service | 1 + items |
| Instore Collection - Banbridge, BT32 3AD | £1.00 |
| | | |
| --- | --- | --- |
| Service | 1 + items | 10001 + items |
| Courier - Ireland (Possible delays) | £7.90 | £16.50 |
N. Ireland
| | |
| --- | --- |
| Service | 1 + items |
| Instore Collection - Banbridge, BT32 3AD | £1.00 |
| | | |
| --- | --- | --- |
| Service | 1 + items | 10001 + items |
| Courier - Northern Ireland | £7.80 | £14.50 |
Scotland Highlands & Islands
| | | |
| --- | --- | --- |
| Service | 1 - 50 items | 51 + items |
| Parcel Force - Highlands & Islands | £17.00 | £27.00 |
UK (Mainland)
| | | |
| --- | --- | --- |
| Service | 1 + items | 10001 + items |
| Parcel Force - UK 24hr (Possible delays) | £16.00 | £25.00 |
| | | |
| --- | --- | --- |
| Service | 1 + items | 10001 + items |
| Parcel Force - UK 48hr (Possible delays) | £8.90 | £18.00 |
Perfect promotional item for your company coming up to Christmas. Create your A3 personalised wall calendars online
Wire bound on short edge
Choice of sizes
1 page per month
Thumb hook in centre
Thumb cut
Full colour printing
250gsm Silk cover page
170gsm Silk month pages
Need help designing your artwork? For guidelines on bleed see here: Artwork guidelines
Common sizes
| Size | Finished size | Artwork size with bleed | Safe margin | Templates |
| --- | --- | --- | --- | --- |
| DL | 99mm x 210mm | 103mm x 214mm | 5mm each side | |
| Business Cards | 85mm x 55mm | 89mm x 59mm | 5mm each side | |
| Banner Stands | 850mm x 2000mm | 854mm x 2104mm | 5mm each side + 100mm at bottom | |
| A6 | 148mm x 105mm | 152mm x 109mm | 5mm each side | |
| A5 | 148mm x 210mm | 152mm x 214mm | 5mm each side | |
| A4 | 210mm x 297mm | 214mm x 301mm | 5mm each side | |
| A3 | 297mm x 420mm | 301mm x 424mm | 5mm each side | |
| A2 | 420mm x 594mm | 424mm x 598mm | 5mm each side | |
| A1 | 594mm x 841mm | 598mm x 845mm | 5mm each side | |
| A0 | 841mm x 1189mm | 845mm x 1193mm | 5mm each side | |